Appreciation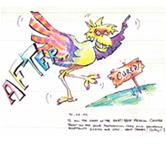 I would just like to thank you for your assistance in getting me home safely, the Dr looked after me very well.
With Kind Regards
Pereira
Welcome to
East West Group
The East West Group is a health care group providing various health care services since 1920 in Lahore, India, now Pakistan. Since August 1947 it has been based in New Delhi, India.

The Late Lt Col Dr G.S.Chawla, OBI graduated from King Edward Medical College in Lahore in the early 20th Century and started providing health care services in 1920 from Lahore, India now Pakistan. He was awarded an OBI (equivalent to the O.B.E.) in 1946 for his medical and humanitarian services to mankind. He was also honoured with an efficiency decoration bar.

Dr G.S.Chawla continued to provide health care services while he was a refugee in New Delhi, India from August 1947 onwards. Dr Chawla, OBI was a well-known clinician and also provided complimentary health care services. He flew as a flying doctor in the early 1950's...
Developed and Managed by ZAAX